Media Release
Parkin Prize
Thursday 7 August 2014
Douglas Stichbury wins 2014 Parkin Drawing Prize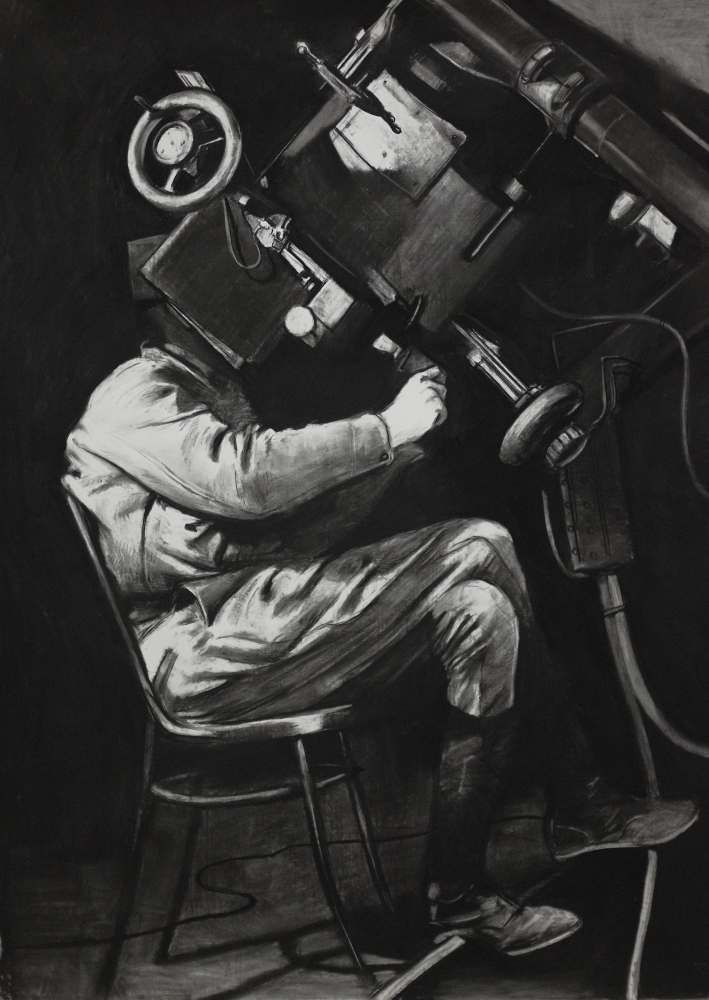 Douglas Stichbury from Wellington has been announced the winner of the 2014 Parkin Drawing Prize and a $20,000 cash prize -sponsored by Chris Parkin, arts patron and owner of Museum Art Hotel in Wellington.
Douglas Stichbury's work Observer was chosen as the winner from an impressive 454 submissions nationwide and 80 finalists at the New Zealand Academy of Fine Arts on Wednesday 6 August.
Reflecting on the winning artwork, Gregory O'Brien, the judge for this year's prize said "It is an audacious piece of work--strident, atmospheric and beautifully rendered. The title alerts us to the figure in the drawing--an ambiguous, uniformed man sitting beneath a telescope or film projector (or might it be a piece of artillery?). The drawing is realistic, but it is also dreamlike. The artist is also the 'observer' here--he is very present within his own work. Like the figure in the drawing, Stichbury is looking at the world, making adjustments and taking aim. And, of course, we--the audience--are also 'observers' here, contemplating a drawing which is fundamentally and quite profoundly all about the business of observing, looking, seeing."
Douglas Stichbury gained a Master of Fine Arts from Massey University in 2010. He has exhibited in New Zealand, China, Germany, Australia, and Switzerland, as well as participated as artist in residence at Die Weinhalde in Zurich, Development AIR in Auckland, and at Red Gate in Beijing. Douglas currently works between Basel in Switzerland, Hong Kong and Wellington.
An advisory panel, consisting of iconic Kiwi artist, Dick Frizzell, Associate Professor and Head of the School of Fine Arts at Massey University, Heather Galbraith, Senior Lecturer in Painting at the University of Canterbury Roger Boyce and Senior Lecturer at the School of Fine Arts at Massey University Simon Morris spent hours assessing hundreds of entries before coming up with the short-list.
"The selectors and judge approached the process with great enthusiasm with the end result being a concise exhibition about the nature of drawing in New Zealand today. On the walls of the Academy there is one of every type of drawing you could imagine and many that you can't. The exhibition has certainly created many heated discussions about what makes a drawing." says Natalie Jones Academy Curator.
The competition, in association with the New Zealand Academy of Fine Arts, promotes excellence and innovation in drawing in all its forms (processes, materials and ideas) and aims to play an important role in fostering New Zealand drawing practice.
This year, for the first time, five highly commended prizes worth $500.00 each were also awarded. The recipients include John Ward Knox, Taylor Wagstaff, Dominic McElwee, Ruth Cleland and Nicola Donna.
"I am incredibly impressed with the high standard of works entered in the second year of the competition – a real testament to the talented and skilful drawers we have produced in New Zealand. I wish all of the artists great success in their careers and I am so heartened to see such a strong culture of drawing evidenced through this exhibition and prize which I hope will continue to grow in years to come," said Chris Parkin.
Works in the award exhibition range in size from the small (25 mm x 35 mm) to the grand (2731 mm x 3519 mm). Entries were received from throughout New Zealand from Whangarei to as far south as Dunedin. Entries were also received from New Zealand artists residing in France, Australia and Canada.
There were a range of drawings utilising the expected materials such charcoal, graphite and pencil while other artists have chosen mediums such as iphone screens, coins and sequins.
The Parkin Drawing Prize exhibition season runs until 25 August 2014 at the New Zealand Academy of Fine Arts Gallery, Queens Wharf, Wellington. All the artworks will be for sale giving admirers and collectors the opportunity to purchase some wonderful pieces which are unlikely to be seen again, given many of the finalists are not represented in any gallery.