Chris Parkin Arts Patron and Entrepreneur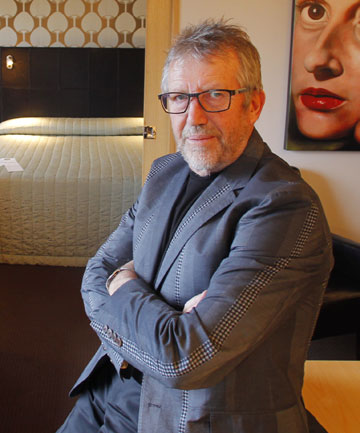 Wellington businessman and patron of the arts, Chris Parkin, is the former owner of the hotel of New Zealand's only boutique art hotel, Museum Art Hotel in Wellington. The hotel features an extensive private collection of contemporary New Zealand art – over 80 pieces, collected by Parkin over the past 17 years.
A Wellington City Councillor for nine years before retiring in 2004, Parkin has been involved in Wellington's art and cultural scene for many years. He is consistently serving the arts community through sponsorship of many organisations in the visual arts, film, theatre, music and dance, as well as having sponsored a number of motorcycle racers over the years. Currently he is Chairman of Wellington Venues Ltd, Chairman of Te Whaia Services and is a Trustee of the Hannah Playhouse.
Chris Parkin was the driving force behind an extraordinary engineering feat where he saved the Museum Hotel from demolition to make way for Te Papa in 1993 and had it moved across the road on railway tracks, it was the largest building in New Zealand to be relocated. His rescue mission led him to be named Wellingtonian of the Year in 1993. And in 2006 he completed a $29 million nine-story expansion, a mix of hotel rooms and apartments.
In the 2011 Queens Birthday honours list he was awarded a Companion of the New Zealand Order of Merit for services to the arts and business.
The Museum Hotel is now QT Wellington Hotel
The New Zealand Academy of Fine Arts
The list of Academy exhibitors is a "who's who" of New Zealand artists and craftspeople and there are few important artists who have not exhibited here at some stage, often remarkably early in their careers. (The Right Honourable Allan Highet, Minister of the Arts, at the Academy centenary 1982).
The Academy of Fine Arts was established in 1882 and is one of the country's longest-serving arts institutions. In 2012 it continues to promote excellence in the visual arts from its galleries at 1 Queens Wharf in central Wellington. It maintains a commitment to the arts in New Zealand, its membership, working artists, emerging artists, and exhibitions with a particular interest in issues and art practices deserving of more attention.
The Academy is an independent and unique arts institution with a regional and national focus, responsive to the changing environment of the arts. The Academy has recently established an annual award for emerging artist, The Tui McLachlan Award, (sponsored by the artist's estate).
It has also recently demarcated a new gallery within its premises at 1 Queens Wharf, Lightspace, featuring a new exhibition programme that expands and strengthens its offering of contemporary art with greater opportunity for emerging and established artists to develop projects and present new works.