Reviews
Parkin Prize
2022 Parkin Drawing Prize
Judge,

Felicity Milburn,

comments on the merit and winner.

Liam Cutting His Hair After An All Nighter by Siân Stephens is a riveting drawing that takes us deep into a private space and moment. There's a powerful tension created between what is shown and what is withheld. The subject stands in front of a bathroom mirror, partway through a drastic and perhaps impromptu DIY haircut. Though complex, the composition is appealingly spare, and what we can see only serves to heighten a sense of intrigue. The artist has deliberately compromised our view, we see the subject only from behind and his reflection is visible only to him. We are unable to gauge his feelings or motivation – is this radical change in appearance exhilarating or cathartic, or has it been prompted by something darker? We gather our clues from an array of tenderly observed details - the boldly striped shirt, the blue nail polish, the long, braided 'rat's tail' about to be shorn off. All this, and much more, makes Siân Stephens Liam Cutting His Hair After An All Nighter a fascinating work, a deeply satisfying viewing experience and a worthy winner of the 2022 Parkin Prize.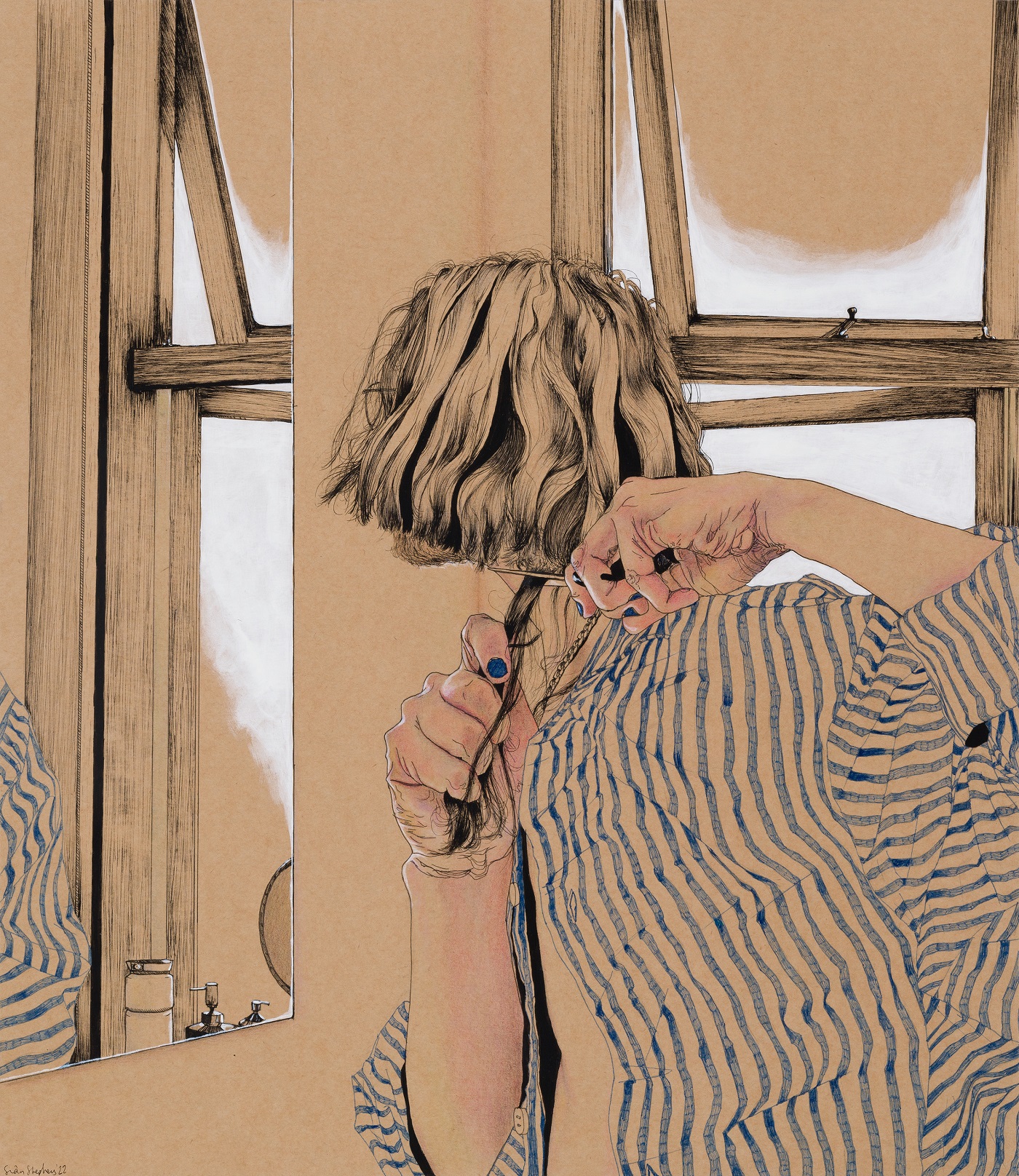 I'm lucky enough to work every day with a collection that includes some wonderful portraits, and this next winner reminded me of the economical and expressive pencil drawings of the Canterbury artist James Cook. Felicity Bergstrom's I Captured Your Being is a confidently rendered work, in which a convincing sense of character is established within relatively few lines. While our focus is immediately drawn to the subject's eyes and mouth, subtlety and skill is evident across the entire composition. It's realistic – and that figure seems almost as though he might turn to look at us – but the work never loses its 'drawingness'.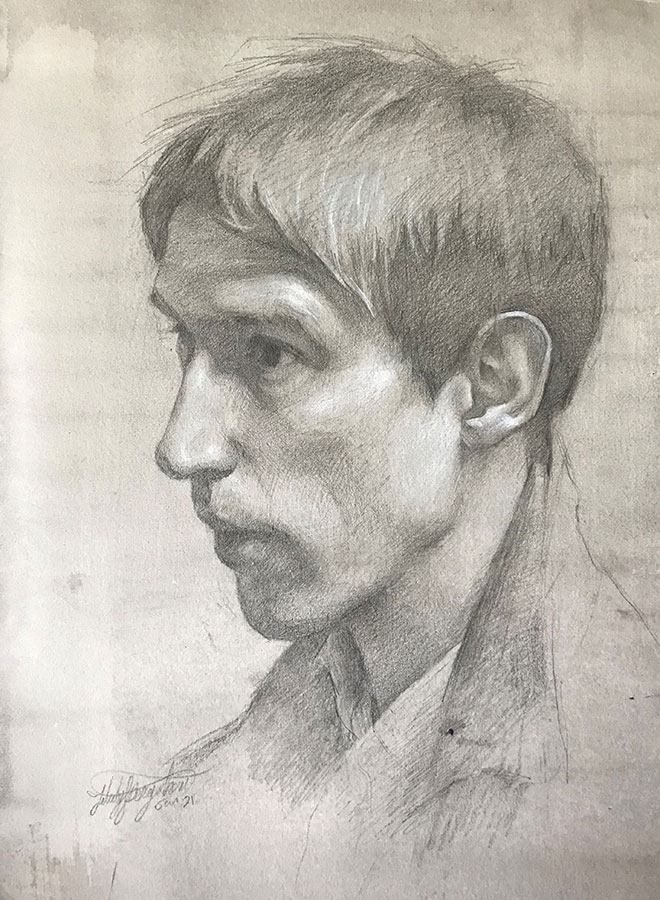 One of the most powerful things an artist can do is make you want to know more, and that's exactly what Sam Dollimore achieves with Shared Space. Indistinct forms hover at the edge of recognition; they're fluid, sensual, bodily. There's a beautiful contrast between the intensity of the chosen colour – red – and the delicacy of the mark-making in which fine lines stretch out like fabric across the paper. It's a work that confirms nothing, but suggests much, and I liked it a lot. Congratulations, Sam.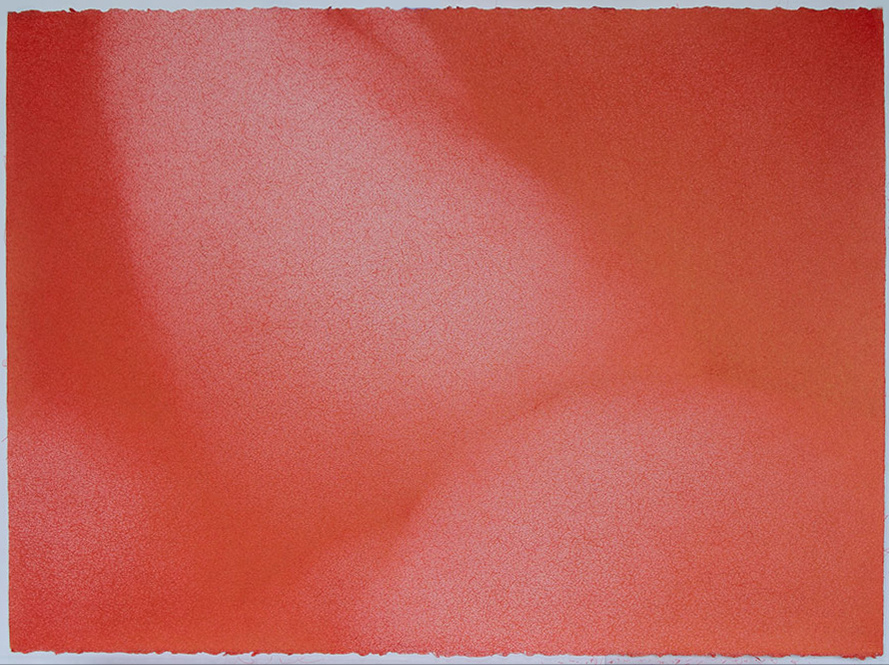 The second highly commended award goes to Robyn Penn for Hold Time. What struck me most about this work was its sense of uncontained power. It churns and billows right to the edges, the unusual ground giving it a convincing transparency and luminosity. The textures of the cloud formation are incredibly subtle, varying in intensity across the composition. The undoubted technical accomplishment required to achieve this, though, was secondary for me to the psychological impact the artist achieves; there's a sense of something threatening or vulnerable – perhaps both. Creating something so powerful while retaining an airy delicacy is a difficult task, but one the artist has accomplished with confidence.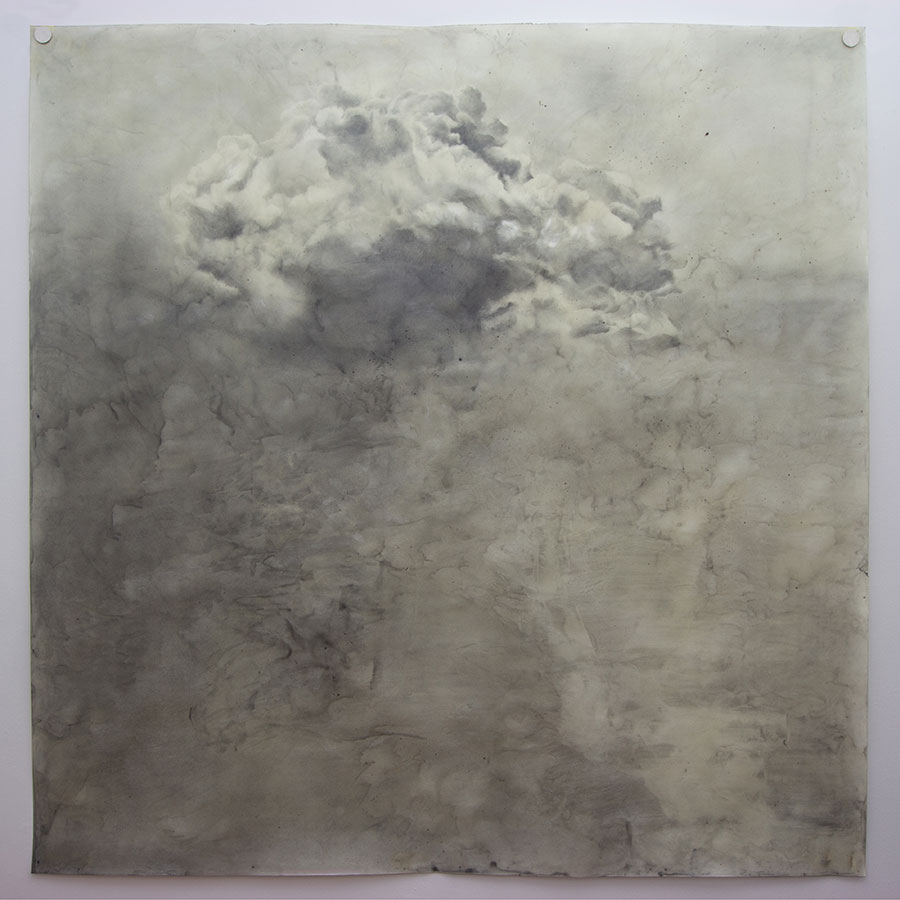 There's a kind of art work I especially like that I think of as an 'eye-washer'. They're fresh and unexpected, confident, energetic – just a lot of fun to look at. The next work to win an award has all those qualities for me. Playing off the formality of a grid with an appealing sense of disruption, Rugosity by Simon Nicholls shows the power of simple, but perfectly formed mark-making to convey movement and energy. I loved it.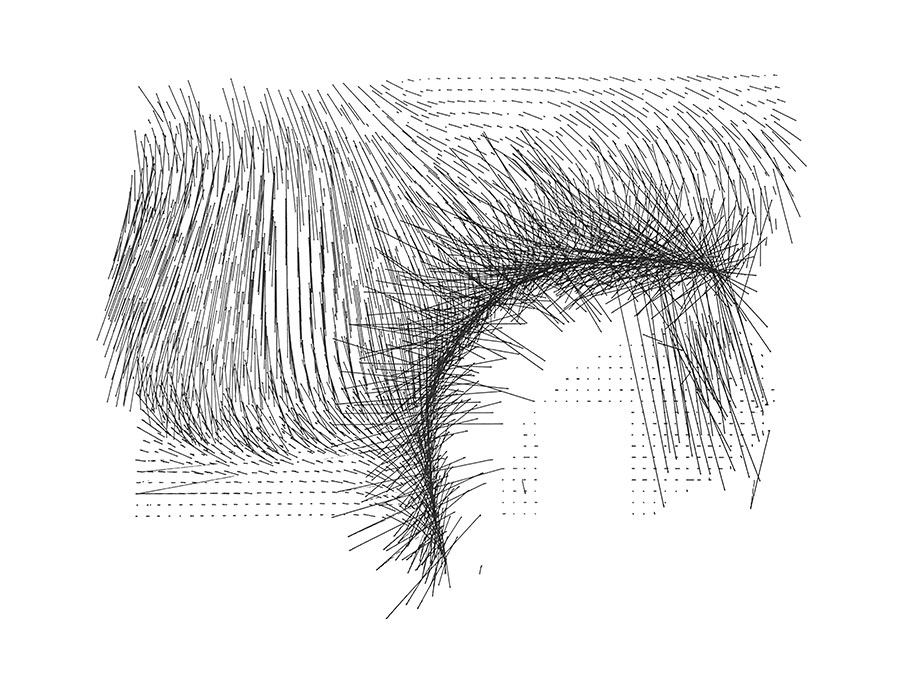 Edged like an old wool blanket, Lea-Anne Sheather's Blessings Bequeathed has an appealing, rumpled liveliness. It's strange and spellbinding; the fine stitching erupting across the surface and taking on a life of its own as it leads your eye around the composition. The artist has skilfully incorporated a number of different textures, and I especially enjoyed the colour sense that's evident in this work – autumnal russets and golds blend with mossy greens to provide a perfect contrast to the bright white stitching.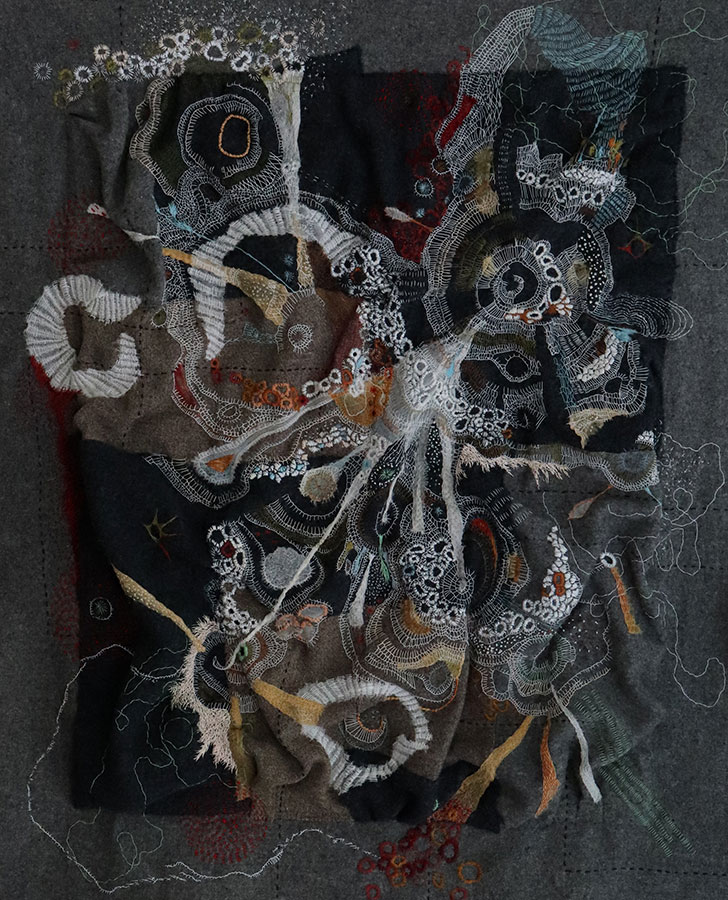 Ina Johann's Mapping Another Life: A State of Being is a complex and intricate work. A series of seemingly unrelated images – some organic, others architectural – are superimposed over a backdrop of deep blue sky and cloud. There's a sense of fracture and disruption, a glitch, a corruption, a re-setting. What we're seeing might be the stuff of memory or imagination, or a futuristic vision. Or maybe it's all those things at once.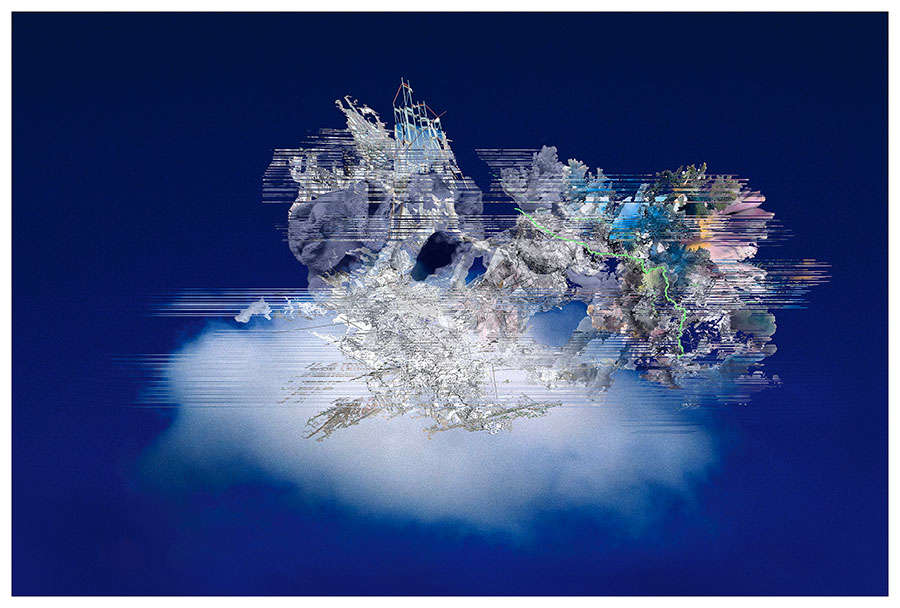 For all of the works in this exhibition, I was judging blind – with no indication of the artist's name or the title of their work. So when I found out that the title Veronica Herber had given her work was Joy Net I was delighted to find that it captured exactly what I had enjoyed most about it. It's a very simple undertaking – strips of yellow washi tape enclosed within delicately traced pencil lines. It's the kind of thing that would be very easy to get wrong. As the shapes form and reform in front of your eyes, the work becomes meditative in its repetition and simplicity, but never boring.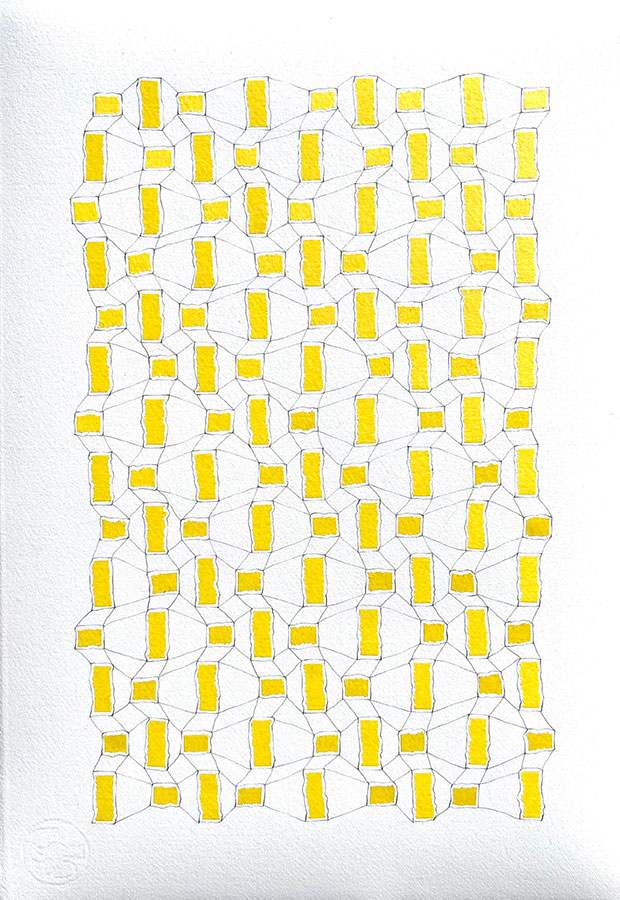 The next highly commended award goes to an epically-scaled work that benefits from a deliberate incongruity. The setting for The Artist in Situ – The War of Art by Jordan Barnes, with its sumptuously upholstered seat and dramatically darkened background, suggests a kind of gravitas, but it's one that is undercut by the ordinary details of the subject's attire – the black jeans (I'm assuming that colour), the scruffy boots, the wrinkled shirt. All the drama is concentrated in the figure's face, but he looks off to the side and the palpable sense of internal conflict gives this work a strong psychological edge.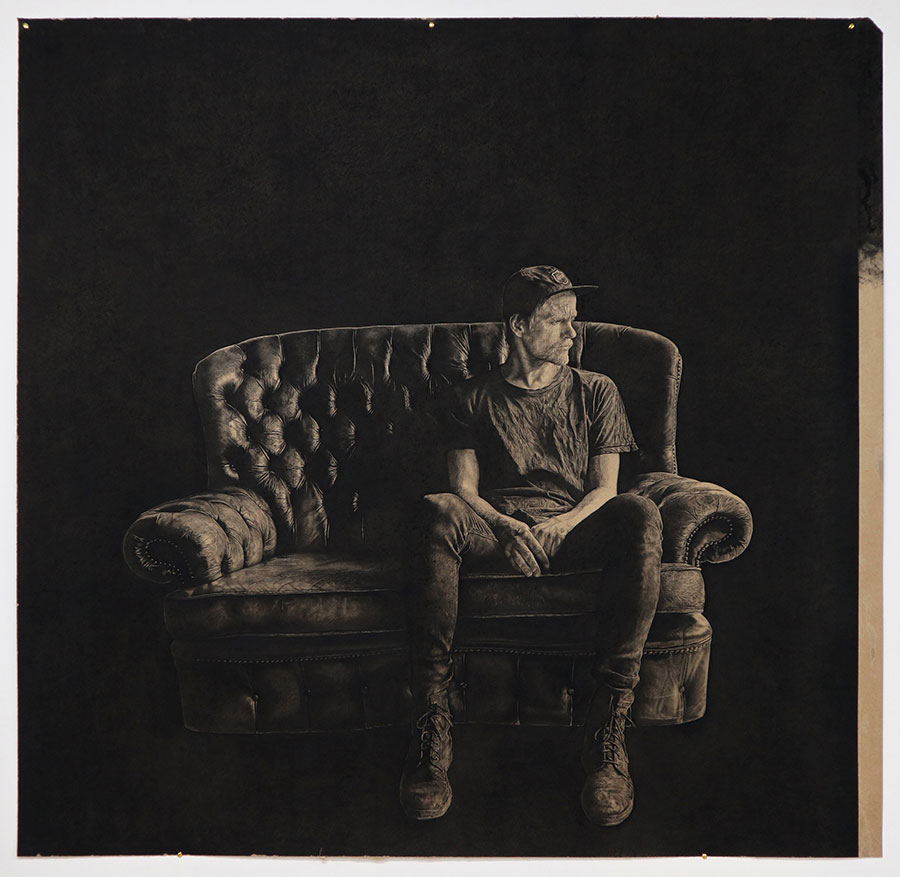 I mentioned that several works took me to a different place, but one seemed to beckon towards another time. Lisa Call's Aragon is a richly worked textile that glows with an almost medieval lustre. Its golden surface hums with tightly contained energies, as lines of tight stitching create both texture and depth. Despite the sense of movement, it feels almost ceremonial; a strange and beautiful work.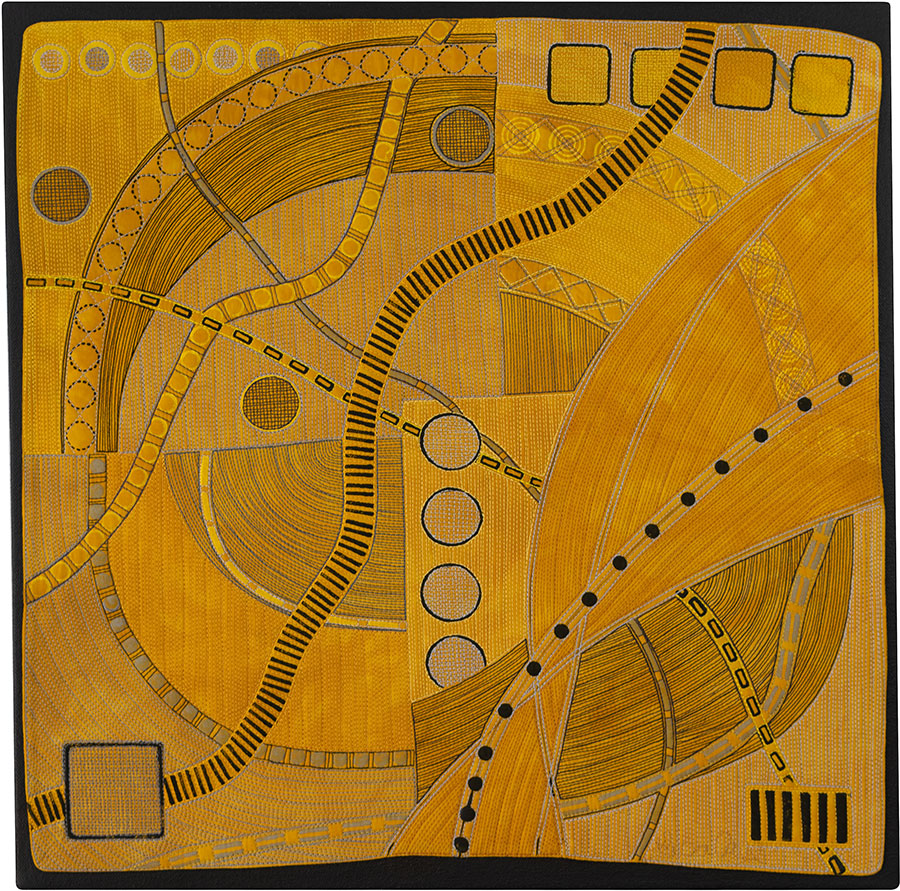 The last of the highly commended works extends the boundaries of what might be considered a drawing. It actually depicts a drawing in progress – the silvery trails left by an assortment of snails spilling out of an overturned container. We can't be sure whether this spillage is the result of an accident, an escape attempt, or maybe even an invasion, but what we do experience is compelling and entrancing – a squelchy, languorous, slow motion procession in all directions. Every choice Denise Batchelor made in Mark-Making Slowly was perfectly judged: the closeness of the shot, the sultry colour palette, even the way the composition resembles the set up for a Dutch still life painting – when the subjects are anything but still. As the snails perform their gentle explorations, gliding over each other and up slopes, we're taken into another world entirely and I for one was willing to go.