Media Release
Parkin Prize
Carpet installation scoops 2017 Parkin Drawing Prize
Media Release : 2 August 2017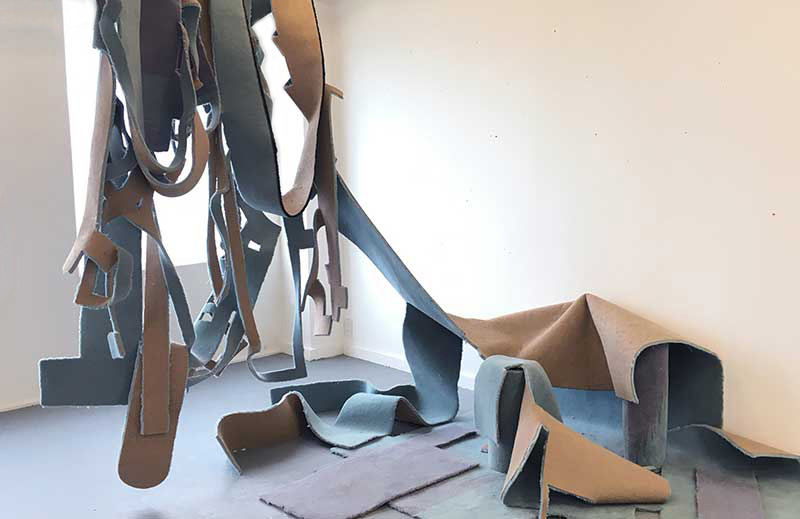 Kirsty Lillico from Wellington has been announced the winner of the 2017 Parkin Drawing Prize and a $20,000 cash prize – sponsored by Chris Parkin, arts patron and philanthropist.
Kirsty's work State Block measuring 3.7 metres x 4.7 metres, was chosen as the winner from an impressive 502 entries nationwide and 84 finalists at the New Zealand Academy of Fine Arts on Monday 1 August.
Reflecting on the winning artwork, Seraphine Pick, the judge for this year's prize said:
"Kirsty Lillicos's work State Block is challenging, brave and impressive. Her use of salvaged carpet for surface material to draw into it with a knife a blueprint plan of a 1940's modernist high-density concrete block of flats, then presenting it by hanging and draping it from floor to ceiling and transforming the blue print into a three dimensional drawing in space as a floppy, soft and bodily object - quite the opposite to the hard-edged concrete Brutalism style building the plan was designed for people to live in.
Her work appears to question high-density social housing and its liveability, inequality, affordability and the failure by privatization to solve the current state housing crisis balanced with her interest in the post–depression era of International Brutalism style of modern Architecture and its aesthetics."
Kirsty Lillico, who was named a finalist this year for two works, is a visual artist renowned for turning old carpet into sculptural objects based on Brutalist-style buildings and architectural plans. Her works have appeared throughout New Zealand and overseas at several galleries including St Paul Street Gallery in Auckland, Dunedin Public Art Gallery, City Gallery in Wellington, Waikato Museum, RMIT School of Art Gallery and Monash Gallery of Art in Melbourne to name a few.
Kirsty gained a Bachelor of Design and Visual Communication Design from Victoria University of Wellington and has a Master of Fine Arts from RMIT University in Melbourne. Alongside working as a visual artist, she has held positions as a Senior Tutor in the School of Design and Fine Arts at Massey University in Wellington.
An advisory panel, consisting of John Gow, Director of Gow Langsford Gallery, Simon Rees, Director of Govett Brewster, arts commentator, historian and writer Dr. Warren Feeney and renowned painter Kelcy Taratoa spent hours assessing hundreds of entries before coming up with the short-list.
"The selectors and judge approached the process with great enthusiasm with the end result being a concise exhibition about the nature of drawing in New Zealand today. On the walls of the Academy there is one of every type of drawing you could imagine and many that you can't – leaving the question open as to what is drawing?" said Chris Parkin.
The competition, in association with the New Zealand Academy of Fine Arts, promotes excellence and innovation in drawing in all its forms (processes, materials and ideas) and aims to play an important role in fostering New Zealand drawing practice.
Seraphine Pick also awarded 10 highly commended prizes worth $500.00 each. The recipients include Karyn Taylor - Arc on 3 States (Auckland); Harry McAlpine - The Tyranny of Good Intentions, James Thomson-Bache - The Activity (Dunedin), Michael Dell -Valley/Forest (Nelson), Rohan Wealleans – Skyclad (Wellington), Kristy Gorman –Lacuna III (Auckland), Clara Wells- Parramatta Automatic (Christchurch), Jae Kang – 4,000 Stains of Breath (Auckland), James Robinson – Gnosis (Dunedin) and Hugo Koha Lindsey - Forensic Cue 1 (Auckland).
"When I founded the Parkin Drawing Prize five years ago, I hoped it would create a resurgence of interest in drawing, empower artists, and get the drawing conservation going between artists and New Zealanders in general – this, I believe, has been achieved. I'm genuinely thrilled with the consistency of this competition over the years, the high calibre of entries, the sometimes 'heated discussions' as to what drawing is, and the fantastic reception from the public. I can only encourage people to pay a visit to the NZ Academy of Fine Arts this month and see the amazing collection of artworks on display," said Chris Parkin.
Interestingly, there were eight artists short-listed for two pieces of work – the highest number of double-entry shortlisted works ever recorded in the competition. The artists include Krystie Wade and Liam Gerrard from Auckland, Kirsty Lillico, Heather Haywood, Maria OToole and Billy Wilson from the Wellington region, Emma-Kate Moore from Kingston and Ina Johann from Christchurch.
The Parkin Drawing Prize exhibition season runs until 3 September 2017 at the New Zealand Academy of Fine Arts Gallery, Queens Wharf, Wellington. All the artworks will be for sale giving admirers and collectors the opportunity to purchase some wonderful pieces. There are also opportunities for dealers given many of the finalists are not represented by a gallery.