Blog
Parkin Prize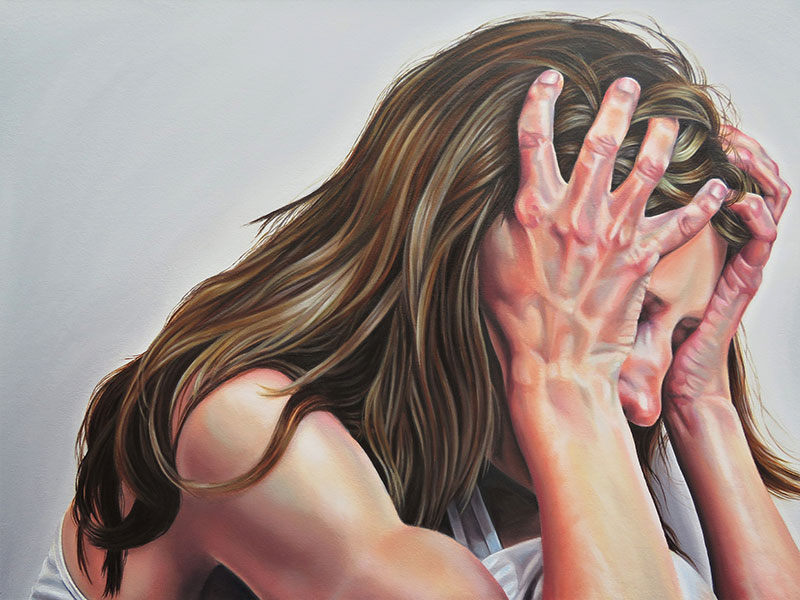 Growing up I was always creating and making art. I was first introduced to oil paint in 2000, after returning from living abroad in the UK. Once that passion for oil paint began, I started painting and exhibiting while living in Adelaide. Then returned to study and completed a diploma of Visual Arts 2006 in central Melbourne, otherwise a predominantly self-taught artist, dividing my time between painting in the studio, my husband and three children.
My work explores the human emotions of anxiety, depression, growing up, pre-teen and understanding the transition from child to teenager and still retaining your own uniqueness. Using myself and my family as models and inspiration for my most recent work. My style of work is realism, the brush work is intentionally soft, but layered till I get the desired effect.
Art-making is my love. As I sketch, and take photos of my concepts, my narrative ideas emerge and became an important instrument that allows me to explore the interconnections of my creative practices and personal experiences. Including the struggles of mental health, anxiety and depression. It was in this context that I painted my very personal works, a narrative of a woman feeling overwhelmed by her raw emotions, as if seen through the lens as an accidental viewer, to these hidden moments.
Most recently I've found inspiration in seeing my children grow, developing their individual personalities and realising their place in their world, wrestling with the belief of staying unique to themselves but feeling the pull to fit in, and understanding emotions. The current series Metamorphosis, is based on my 11-year-old daughter.
Remembering my transition from child to teenager, the awkwardness of wanting to still play as a child but yearning to engage with adults. I see this duality with my daughter, as she navigates through hormones & emotions, excited yet nervous. Falling into the unknown, a beautiful metamorphosis. The work feels like she is somehow falling, or floating with only a lone figure suspended.
With my two younger sons I worked with a story of two brothers, and times shared between them, the inventive and boisterous play. Sometimes the closest of friends, other times in conflict that many close siblings share. Still working with the narrative concept that is a hallmark of my work. I chose to implement playful outfits with animal hoods & capes capturing them in the wonder of creative play.
In the past couple of years, I have been applying to art awards in NZ and abroad, finding this a great incentive and an opportunity to get involved in the art community and exhibit my work. New Zealand has quite a lot of smaller community art awards and some quite prestigious awards, giving artists a voice for their work. The Parkin Drawing Prize is a prominent art award one which I believe the contemporary art collective within New Zealand needs and it's something I aspire to be a part of. The Parkin Award presents an opportunity to a broad spectrum of the art community. All artist's start their work with drawing their ideas out, even if their main medium may be paint, we all start with a universal mark marking.
https://www.instagram.com/traceycoakleyart/?hl=en