Media Release
Parkin Prize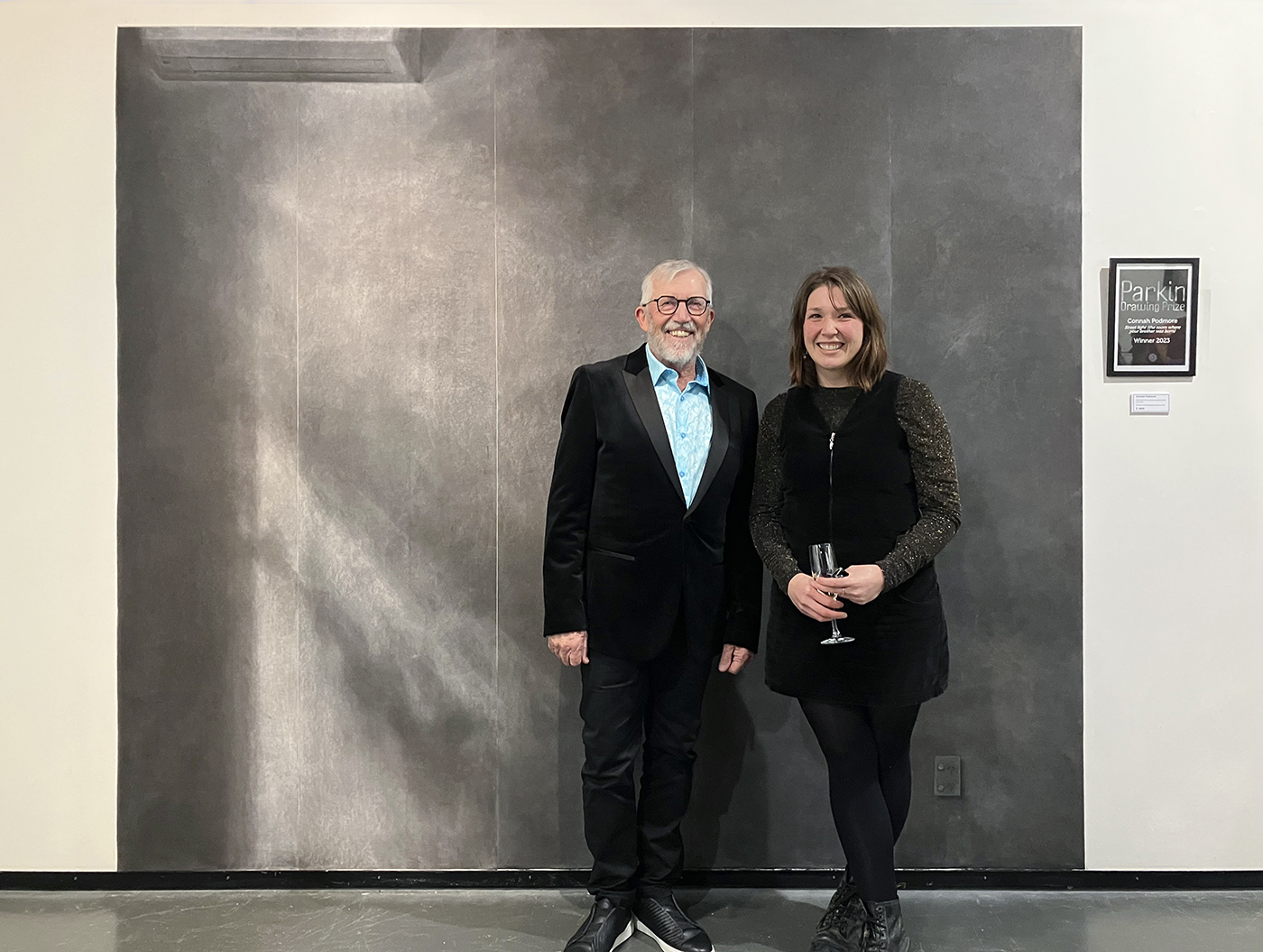 Wellingtonian Connah Podmore has been announced the winner of the 2023 Parkin Drawing Prize and $25,000 - sponsored by Chris Parkin, arts patron, and philanthropist.
Connah's work "Street light (the room where your brother was born)" in charcoal on lining paper, pasted on the wall, was chosen as the winner from 500 entries nationwide and 86 finalists at the New Zealand Academy of Fine Arts' Academy Galleries on Tuesday 1 August.
Reflecting on the winning artwork, Director of Auckland Art Gallery Toi o Tamaki, Kirsten Lacey, the judge for this year's prize, said:
"The winning work of the Parkin drawing prize is a beautifully rendered blank wall, installed life size, quite literally on the gallery wall. This drawing evokes for the viewer our own domestic spaces, where we come to intimately know of our own blank walls. Walls which are never really blank but inscribed with changing shadows, patterns marks and potholes of life. Blank walls which are in fact personal, known to us by virtue of the reflected light of possessions, gifted or bought and their associated memories, while light passes over our roofs marking time across the surface. Walls renovated, re-painted, pock marked from picture frames, or the scuff of boots.
I loved this work for the attention put to the drawing of blankness, so as the viewer can meditate on what fills their walls. I felt it to be a metaphor for the challenge of meditating with an empty mind, allowing the day's thoughts and images to pass by as we seek refuge from constant information and content."
Connah, who was a Highly Commended recipient for her work Light Held Light in the 2021 Parkin Drawing Prize, is humbled by the win.
"I certainly wasn't expecting to win so I am feeling quite overwhelmed. There are some amazing drawings in this exhibition, so just to be part of the show was an honour for me."
According to Connah, her winning piece is a love letter to her family, and in memory of the many long nights spent feeding her son on the couch and staring at the wall in her living room.
"This is the back wall of our old living room. It is an ordinary room, where ordinary things happened but significant to me as this is where we spent our days when my children were young. When they were babies, I used to stare at the changing shadows on this wall as I nursed them to sleep each night.
One of my key aims for this piece is to draw attention to the depth present in what we overlook as ordinary and unremarkable. This idea is particularly important to me when thinking about motherhood and acts of caregiving generally."
Connah, who is mother to 3-year-old Renny and 6-year-old Lewis, works part-time at Inverlochy Art School in Wellington. After completing a Bachelor of Science majoring in Biochemistry and a Bachelor of Arts in Art History at Otago University, Connah went on to complete a Masters in Fine Arts at Massey University in Wellington.
Connah says her winning work is the second of a series she has been working on which reflects on her early experiences of being a stay-at-home parent. The first piece 'This body also holds mine' commissioned by Te Tuhi in Auckland in 2019, is also a charcoal drawing depicting her then one-year-old son's bedroom wall in the early hours of the morning.
For the first time in the Parkin's history, 12 highly commended prizes worth $500 each were awarded by judge Kirsten Lacey. The recipients include:
The Day He Told Me He'd Died- by Kata Brown - Year: 2022 (Wellington)
Ironing Bored- by Jann Lenihan - Year: 2023 (Masterton)
40 hour work week- by Frances Krsinich - Year: 2023 (Wellington)
The beginning and the end - by Lucy Dolan Kang - Year: 2023 (Christchurch)
Ruby - by Bonnie Wroe - Year: 2022 (Wellington)
Modernity - by Jordan Barnes - Year: 2023 (New Plymouth)
I just thought I was really important - by Brent Treacher - Year: 2023 (Hastings)
How I Remember It - by Allette Ockhuysen - Year: 2023 (Rakaia)
Dancing Growing - by Motoko Kikkawa - Year: 2022 (Dunedin)
self-portraits - by Duncan Anderson - Year: 2023 (Berlin)
Take it away - by Emily Harris: 2023 (Lower Hutt)
The best I can do for the moment - by Clara Wells – Year:2023 (Christchurch)
All the artworks in the 2023 Parkin Drawing Prize shortlist will be for sale giving admirers and collectors the opportunity to purchase some wonderful pieces which are unlikely to be seen again, given many of the finalists are not represented in any gallery.
The competition, in association with the New Zealand Academy of Fine Arts, promotes excellence and innovation in drawing in all its forms (processes, materials and ideas) and aims to play an important role in fostering New Zealand drawing practice.
Previous winners include Monique Jansen (2013) with AO Folded Moire Drawing; Douglas Stichbury (2014) with Observer, Gabrielle Amodeo (2015) with The Floor We Walk On, Hannah Beehre's Catastrophe (2016), Kirsty Lillico's carpet installation State Block (2017), Jacqui Colley for Long Echo (2018), Michael Dell's Every Valley (2019), Poppy Lekner's Forward Slash (2020), Mark Braunias' work 'In search of the Saccharine Underground' and Siân Stephens 'Liam Cutting His Hair After An All-nighter', at last year's 10th anniversary.
The Parkin Drawing Prize exhibition will run from Wednesday 2nd August until Sunday, 11 September at the NZ Academy of Fine Arts in Wellington.
For more information/interview opportunities please contact:
Rebecca Reed: Email: Rebecca@arribapr.co.nz
Phone: 021 205 7718